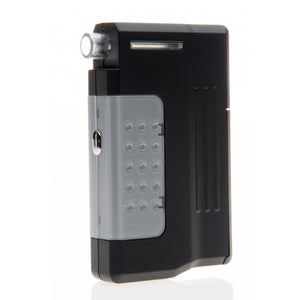 i Alco Supreme Breathalyzer
Absolute Autoguard 547207
The Alco Smart i connects by Bluetooth to Android phones and tablets from 4.3 and newer versions and those of Apple brand (iPhone and iPad) versions of iOS 7 and newer. The i Alco Smart allows you to view your alcohol level on the screen of your favorite device, and, in just seconds! The i Alco Smart offers:
Several attractive visual displays allowing you to use the sensor well and interpret the results.
The application indicates the time for you reach a zero rate blood alcohol or equivalent to the legal limit.
You can access your last 500 results and send them via a text message, Facebook or Twitter to another smartphone!
You can set the legal limit according to the standards and the measurement unit of the country or province in which you find or traveling!
Specifications:
Device compatible with Android devices versions 4.3 and newer as well as Apple products iOS version 7.
Model with an electrochemical sensor. The best available technology on the market and included in the devices used by police.
Detection: 0.000 to 0.400% BAC (blood alcohol content).
Accuracy: +/- 5% to 0.05%. ÔøΩÔøΩÔøΩÔøΩÔøΩ Operating Temperature : 10 to 40 ÔøΩÔøΩÔøΩÔøΩÔøΩ C.
necessary blowing time of just 6 seconds.
internal pump system to ensure a sufficient breath sample.
Memory of your last 500 tests including numbering and date display and time of each.
Sending your result to another smartphone via text message, Facebook or Twitter.
Estimate the time required to find a sober state or obtain a result corresponding to the legal limit
Adjustment legal limit of alcohol depending on your province or country.
Reminder indicating that the calibration of your device is required.
Indicator of low battery easy to interpret.
Dimensions: 8.4 cm x 4.6 cm (1.6 cm approximately).
5 mouth parts individually wrapped (included).
Requires only 1 AAA battery (not included).
Units:.%, ÔøΩÔøΩÔøΩÔøΩÔøΩÔøΩÔøΩÔøΩ, mg / L mg / 100 ml
Small, light and easy to carry, i Alco Smart fits easily in a shirt pocket or a handbag.
---