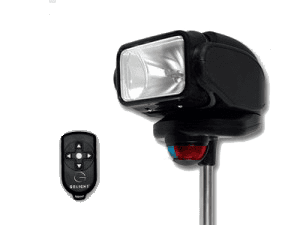 Golight 2151 - Gobee Halogen Search Light
GoLight 2151
Golight 2151 - Gobee Halogen Search Light
The Gobee™ Halogen Search Light is a wireless, remote-controlled searchlight ideal for those seeking an extra layer of personal security. Mounted on a 12-inch stanchion and designed to fit into any standard two or three-prong bow socket, the product features integral bi-color navigation lights, directional flexibility, and unparalleled ease of use.
Product Features
With the touch of a finger, the Golight 2151 is able to rotate horizontally 360 degrees and tilt vertically 90 degrees. Furthermore, this cutting-edge searchlight boasts a maximum beam distance of 1,857 feet, is resistant to damage from both UV rays and saltwater, and comes complete with a one-year limited warranty.
Along with the Gobee™ light itself, the following items are included with purchase:
12-inch stanchion with 12 volt DC navigation lights
Programmable remote control
Battery lined nylon storage bag for optimal remote control protection
Bulb and Power
The Golight 2151 utilizes a H-3 55 watt bulb and requires a minimum voltage of 12V and a minimum of 5 amps to operate, although a 7 amp fuse is recommended for ideal functioning. Additionally, a 14-gauge or larger wire is recommended for connecting the searchlight to its power receptacle in order to best ensure seamless functioning.
Bulb Replacement
Should the user seek a backup or require a replacement, an H-3 55 watt bulb is recommended.
Remote Control
The remote control included with the product is programmable and features 16 different channels, allowing for unique and unmatched versatility. When the user changes the channel, the receiver is able to immediately and impressively learn and remember the new selection.
The remote control is turned on and off by simply pressing the on/off button and the searchlight's desired direction or position is achieved via the remote's four-way arrow controls. Except for extreme or adverse conditions, the wireless remote is able to function up to 15 feet away from the searchlight.
Lastly, the remote control's battery may be installed or removed with the use of a Phillips head screwdriver; just remove the battery's cover by unscrewing the necessary screws.
Programming
While the remote control is programmed by the user, the searchlight itself is pre-programmed at the time of manufacturing. It is additionally unnecessary to re-program the transmitter unless troubleshooting is required or there is outside interference. Simply set up the Gobee™ Halogen Search Light, program the remote, and you're good to go!
---
We Also Recommend
---