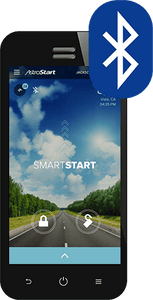 Astrostart Smart Start Bluetooth Vehicle Remote Starter
Absolute Autoguard
Remote starter installation is included in our all installed pricing.
PRODUCT INFORMATION
Range: Unlimited (Cellular coverage required)
Remote Starter Type: 2-Way
2-Way Upgrade: Not Available
3X Lock Start: Included
Bluetooth Start (From APP): Included
Transmitter Included: None (Smartphone)
Transmitter Upgrade: Available (Additional Cost)
Alarm Add-On: Available (AdditionalÔøΩÔøΩÔøΩÔøΩÔøΩCost)
WARRANTY INFORMATION
Remote Starter Unit: Lifetime Warranty
Transmitter Warranty: 2-Year with transmitter upgrade
Installation: Lifetime Warranty
ÔøΩÔøΩÔøΩÔøΩÔøΩ
WHAT IS 3X LOCK START?
3X Lock Start is for customers that prefer to keep their original factory remote, our Base Remote Starter provides seamless integration with the OEM remote! This 3X Lock Start compatibility enables remote start by pressing the factory remote transmitterÔøΩÔøΩÔøΩÔøΩÔøΩÔøΩÔøΩs lock button three times to remote start the vehicle.
SMARTPHONE CONTROL WITH BLUETOOTH
Use smartphone control with Bluetooth for a more convenient and interactive connection to the vehicle. OurÔøΩÔøΩÔøΩÔøΩÔøΩBase Remote Starter provides FREE smartphone control via Bluetooth SmartÔøΩÔøΩÔøΩÔøΩ technology and the FREE Directed SmartStart mobile app.
ADD SECURITY WITH ALARM SYSTEM
Upgrade with our alarm option for a fully-featured Base Remote Start and Security System for full vehicle security and convenience. Ask us about adding an alarm to your installation today for an additional cost.
ÔøΩÔøΩÔøΩÔøΩÔøΩ
CONFIRM VEHICLE COMPATIBILITY & BOOK YOUR APPOINTMENT
Provide us with your basic vehicle information, select your remote starter preference and we will confirm compatibility and provide you with installation dates and options. For some vehicles, additional charges may apply ÔøΩÔøΩÔøΩÔøΩÔøΩÔøΩÔøΩ confirm your vehicle details with us today to start!
---