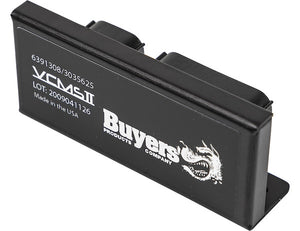 8 Function Switch Panel (Five On/Off, Three Momentary or On/Off)
Buyers Products 6391308
$97808

$978.08

Save $276.88
---
---
Buyers Products 8 Function Programmable Switch Panel comes pre-wired to control up to eight 12V auxiliary devices. This extremely versatile panel combines 8 relays and 8 circuit breakers into a single compact unit. It drastically simplifies the wiring in the vehicle???s cab and makes installation clean and simple. The unit is ideal for a wide range of applications, including crane trucks, brush trucks, and emergency, utility, and municipal vehicles. The panel features 5 On/Off switches and 3 switches that can be configured as momentary or On/Off to suit your needs. Each switch is rated for a maximum current of 15 amps with a max of 60 total amps running through the panel at any one time. The switch panel is backlit and includes a legend with over 120 different switch labels. Solid state construction removes all moving parts for superior impact and vibration resistance, and durable molex connectors ensure a clean, strong electrical signal.
Pre-wired to control up to 8 functions.
Auxiliary Lights
8 built-in relays and circuit breakers simplify wiring to make installation clean and easy.
Switches can be tied into vehicle functions and programmed (i.e: If the spreader is on, then also turn rear strobes on, or if the parking brake is not engaged, do not allow the outrigger to activate).
Five on/off and three momentary switches provide flexibility to suit your needs.
Solid state design (no moving parts) provides superior durability.
Includes 5 On/Off switches and three switches that can be set to On/Off or momentary to suit your needs.
Backlit switches with over 120 different possible labels included on pre-printed legends.
Rated up to 15 amps per switch with a max of 60 total amps running concurrently through the panel.
Durable, high-capacity molex connectors.
Pre-wired plug with leads.
---
We Also Recommend
---