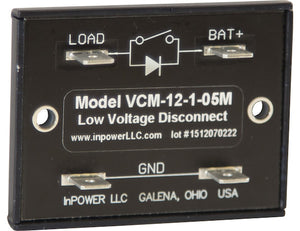 Low Voltage Disconnect Timer
Buyers Products 5601012
$15952

$159.52

Save $32.19
---
---
Buyers Products Low Voltage Disconnect Timer turns on when it senses voltage above 13.25V and shuts off while voltage remains at or below 12.8V. The 12V, 20A solid state timer offers over-current protection and features a 4 wire terminal. The compact timer comes in a durable metal case for long life.
Automatically shuts off your accessory power when voltage remains at or below 12.8V.
Accessory Shut-Off
Over-Current Shut-Off
Automatically shuts accessory power down if it senses a drop below 12.8V of power.
Comes in a compact and durable metal case.
Provides over-current protection as well.
---
We Also Recommend
---