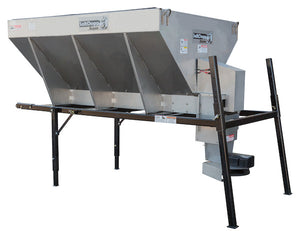 SaltDogg® 5.0 Cubic Yard Electric Stainless Auger Spreader
Buyers Products 1470505SSE
$17,48488

$17,484.88

Save $4,949.82
---
---
Please note: all spreaders listed on this page have been discontinued. Buyers has upgraded all midsize hopper spreaders.
Works with bulk salt or a 50/50 salt/sand mix.
Ice Control
Road Maintenance
Parking Lot Maintenance
Designed for dump bodies and flatbeds with a minimum 15,000 GVW (gross vehicle weight).
Durable 304 stainless steel construction for optimum corrosion resistance.
Powered by two independent electric motors for auger and spinner.
Spreads bulk salt or a 50/50 sand/salt mix.
In-cab controls with independent variable speeds for the conveyor and spinner.
18 in. poly spinner broadcasts up to 30 ft, using a regular or extended chute.
5-1/4 inch variable pitch auger with a 304 stainless steel adjustable inverted V for optimum corrosion resistance and material flow reduces stress on the drive line.
12 inch adjustable height swing-away spinner chute has three adjustable internal baffles and quick detach pins for convenient bulk unload, easy servicing, and access to towing.
Four hinged top screens with 1/4 inch diameter bars included.
Made in the U.S.A.
---
We Also Recommend
---